Sara Crocco '19 / Emertainment Monthly TV Staff Writer
For fans of the new time-traveling NBC series, Timeless, these past two weeks have been vital for them to show their love for the show. Currently, there are at least 5 petitions on various websites made by fans rallying for the show to be renewed for a full, 22-episode Season 2. As Season 1 of Timeless nears its finale, fans all over have been become concerned that the network won't see what they see; an incredibly loved show that not only teaches the public the world's history, but also takes the viewers along for the thrilling ride.
In addition to the fans online support, the show's creator, Eric Kripke — the man behind not only Timeless , but the beloved Supernatural—recently started his own form of a petition with a tweet he made last week. He starts by saying that he hopes his post doesn't come off as "Grade-A douchery," for fear that he might seem like he is trying to save the show for personal gain, but he quickly explains that this isn't the case: "The only reason I'm sending this … is because Shawn Ryan and I, the actors, the writers, everyone who works on Timeless genuinely love it, are truly proud of it, and want to tell a lot more stories."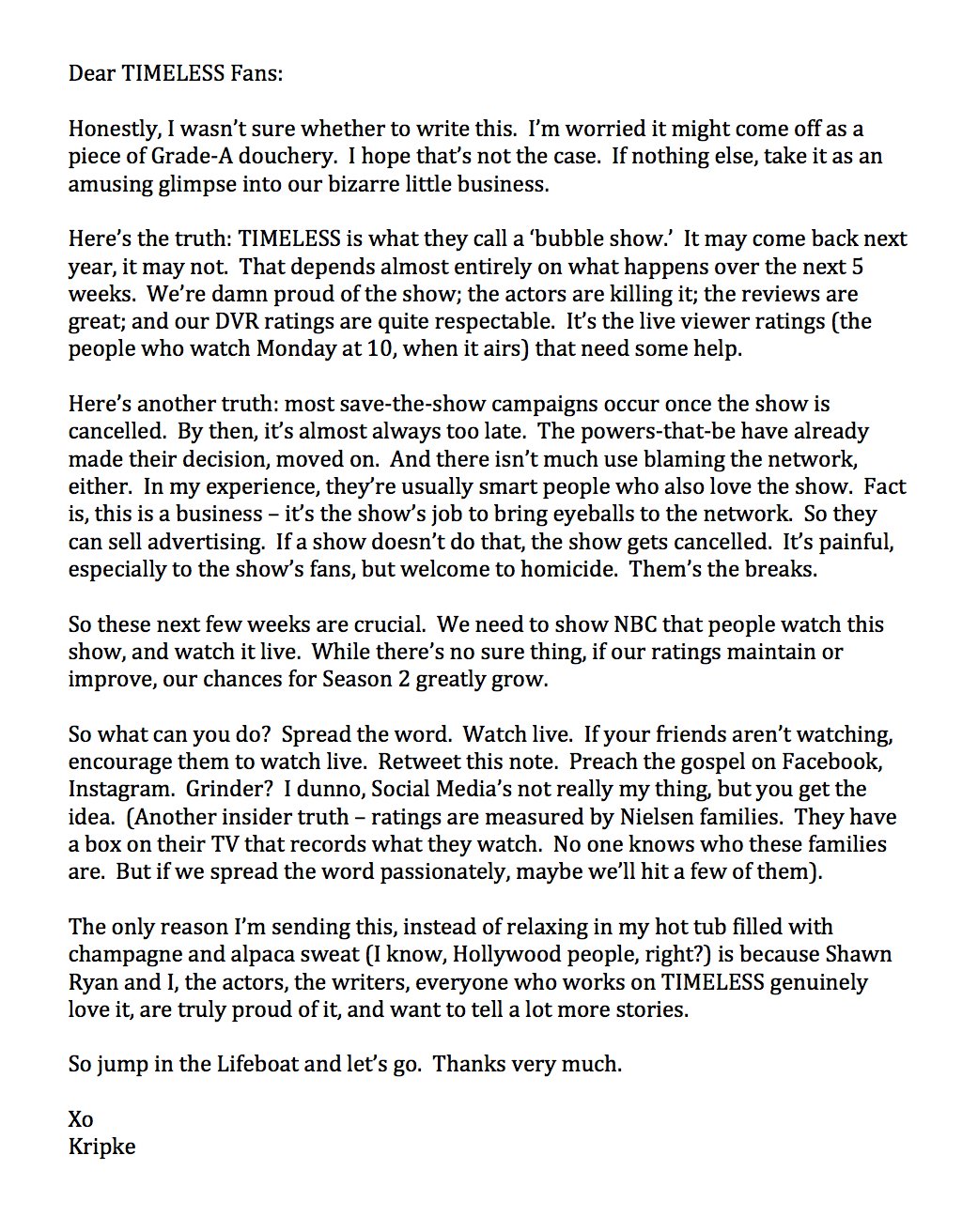 They have every reason to be proud. They showed viewers what it would be like to meet Harry Houdini, to become involved with uncovering the Watergate scandal, to interact with mission control technicians as they prepped to launch the groundbreaking Apollo 11 mission into space, or to gaze into a vignette of what it might have been like to live the daring lifestyle of the lovestruck Bonnie and Clyde. Whatever the historical event, the writers of Timeless made sure to make it memorable. That reason, plain and simple, is one of the reasons why people are fighting to be heard by NBC.
The campaign for Timeless' renewal got pushed forward with the help of Supernatural's Jensen Ackles and Misha Collins and Saturday Night Live's Leslie Jones. In addition, William Shatner himself tweeted out that he would be watching and live tweeting the next episode, to which Kripke said simply, "You are the best." The next few weeks are crucial for Timeless. NBC needs to see how profoundly people adore this show, and one of the best (and maybe only) ways to do that is through watching it live. While nothing is ever guaranteed, many online say that this might the only way to really show that there are faithful viewers watching every week.
Will the show be saved by its fans or will it end up with all of the other canceled shows? Only time will tell.
Timeless airs every Monday at 10 PM ET.